Wildlife Removal Services
Safe and professional animal control and wildlife removal.
Safe Animal Removal From Your Home
Homeowners, in Florida, it happens all the time. Wildlife like raccoons, skunks, squirrels, and more can somehow make their way into your home. In some cases, you can open the door and they will scurry out on their own. Sometimes, though, pest animals will hunker down and prepare to fight. In situations like the latter, call animal control services like Dave's Pest Control. Trying to remove a scared or aggressive wild animal yourself can result in harm to you, the animal, or someone else. At Dave's Pest Control, we make every effort to provide wildlife removal services that won't harm the animal or damage your property. Give us a call today to remove surprise critters from your home.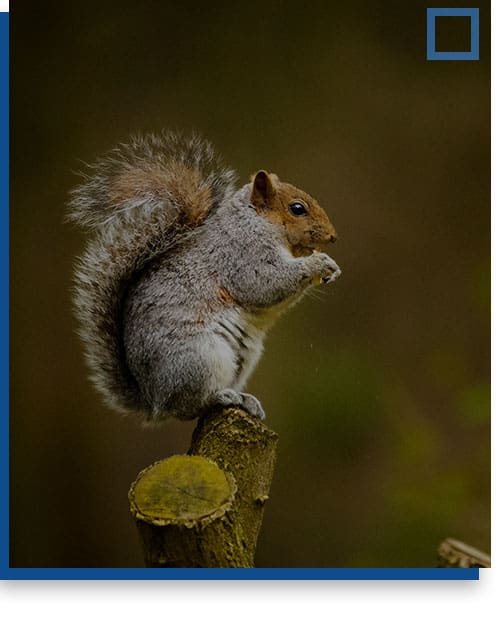 At Dave's Pest Control, we offer a variety of animal control services, tools, and methods like:
Trapping and removal of small animals and pests like raccoons, skunks, and squirrels
Capture and safe removal of animals like birds, bats, or snakes
Prevention of wildlife entering your home in the future
Cleaning and decontaminating
Animal control inspections that ensure all the intruders have vacated
Have an unwanted, wild animal intruder in your home? Reach out to our animal control team at Dave's Pest Control today for safe wildlife removal services.
Areas We Proudly Provide Wildlife Control
Wildlife Removal & Animal Control
Animal Control in Flagler, Volusia, & Brevard Counties
If you hear noises in your walls or attic think there may be a squirrel, raccoon, opossum, or other wildlife in your home, then reach out to Dave's Pest Control right away for a
Free Estimate
on Wildlife Removal. If you have identified droppings, feces, or entry points in walls or in the crawlspace you probably have animal problems. Another example is electrical wires that have been damaged. When you have a problem with nuisance wildlife like rats, raccoons, opossums, bats, snakes, or other animals, you can count on us to remove them safely & humanely through our wildlife control services.
We have expertise in wildlife trapping and removing all types of animals without harming the critter or your property. Aside from animal capture, removal, and exclusion, we also can repair the damage and clean up the waste these vermin leave in their wake. We specialize in humane trapping and wildlife removal techniques as part of our animal pest control solutions. Essentially, if you have a problem caused by wild animals in your area, you can trust us to take care of it.
Our Wildlife Control Services Include:
Trapping animals like:


Raccoon removal
Skunk removal
Squirrel removal
Opossum removal
Armadillos
Moles

Animal Capture and Removal for:

Bird removal, squirrel removal, snake removal, bat removal, raccoons, and much more

Animal Blocking & Exclusion

We will prevent unwanted animals from re-entering your home

Clean-Up and Decontamination
Odor Control
On-Time Quick Service
Professional Technicians
Animal-Intrusion Inspections
Same-day service available!
We offer our animal control solutions in Daytona, Port Orange, Edgewater, New Smyrna, and throughout Flagler, Volusia, and parts of Brevard County.
Call 386-767-7451 for an Animal Control Services Estimate