Exterminate Your Cockroach Infestation.
Choose the Experienced Cockroach Exterminator
Cockroaches are far and above one of the most difficult pests to get rid of in your home. They are resilient and are excellent at growing their infestation quickly. Luckily, our team at Dave's Pest Control has nearly four decades of experience with cockroach control. We employ tried-and-true methods for cockroach extermination and can help you rid your home of roaches in no time. Keep you and your family happy and healthy by calling Dave's Pest Control for our cockroach control services today.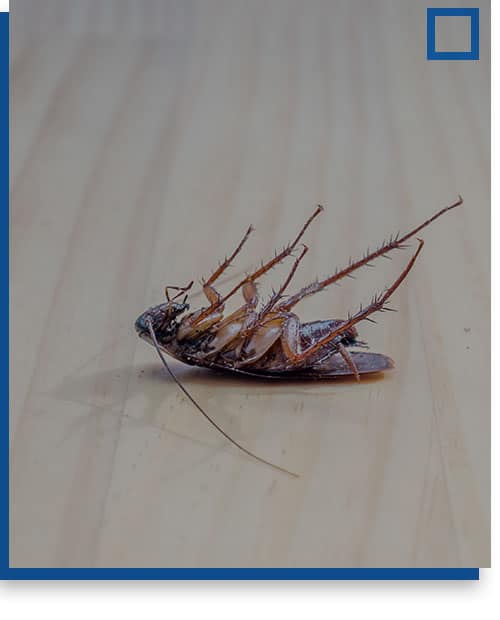 If you need help with cockroach control, it's best to act sooner rather than later. Roaches can cause a number of problems if not treated quickly. Some problems that residents and businesses alike run into with roaches are:
Driving away customers from your business
Contaminating food and other household items
Creating a health risk since they can cause allergic reactions
Causing extensive damage to multiple areas in your home
Quickly multiplying and spreading throughout your home
Contact Dave's Pest Control in Flagler and Volusia counties right away for cockroach control if you suspect there are any roaches in your home or business! It's best to catch the infestation early to give you the best chance at nipping your roach problem in the bud!
Dave's Pest Control has been exterminating cockroaches for almost four decades and can eradicate your roach infestation. Cockroaches can be especially hard to exterminate in Florida because Florida is warm and lacks the freezing cold temperatures that hinder their infestations naturally.
Aside from being generally unpleasant, cockroach infestations are health hazards and destructive to homes and businesses alike. They can contaminate stored food and can do extensive damage to walls, wallpaper, insulation, drywall, and other parts of the home. While they're terrible within homes, they are even worse for businesses. Aside from damaging a business' reputation and scaring away customers who will leave negative reviews if they see them, roaches spread disease. The fact that roaches crawl all over surfaces and find their way within drawers only makes the matter even worse. Roaches are also a health hazard since their feces can cause serious allergic reactions in some people.
There are many types of cockroaches that infest human habitats. The American Cockroach and German Cockroach are most common, but the Oriental Cockroach and Brown-Banded Cockroach can also be found in eastern Florida Counties like Flagler, Volusia, and Brevard Counties.
The good news is Dave's Pest Control can handle all your cockroach extermination needs. We routinely exterminate cockroaches in Edgewater, New Smyrna Beach, Holly Hill, Deltona, Port Orange, Daytona and throughout Flagler, Volusia, and Brevard Counties.
Call us at 386-767-7451 or fill out our form for a free estimate for our roach exterminator services.